Miscellany
Old Queries from 1998-1999
Queries from 1998-1999 have been posted. If you haven't visited this section before or in a very long time you should do so today. You never know when information that previously had no meaning now makes all the sense in the world. I know...it's happened to me.
Fraternal Organizations On-Line
FAMILY TREE FINDERS | Monday - 19 July 1999
This article was posted on Jones-L@rootsweb.com by Mark & Cheryl Pillar. Since I spent two days on the phone tracking down the A.O.U.W. which was mentioned in my ancestor's obituary...I thought this might save some of you some work.
I suspect that many of you are like me. When you have a question or are interested in a new locality or record type or period in history, you turn to the Internet to see what is available. More and more the information that we, as genealogists, are in need of is showing up.

Before supplying the URLs for some of the many fraternal organizations, let's look first at what they do and whether or not they can be of help to genealogists. Fraternal organizations will not be able to supply you with information on the genealogy of your ancestor. What they will be able to help you with though is a glimpse into your ancestor's involvement in the society.
Many of the fraternal organizations that exist are benevolent in purpose. They did much to help each other and their selected charities. When looking into the history of these societies, you will find evidence that many of the secret signs were their way of identifying each other when traveling and in need of aid. Today many of them have insurance to help their members and raise major funds to help various present day charities.
However, for the members, their involvement in the organization goes much further. Most of them offer a series of rights or levels of progression. And this information was of course recorded in their organization records. This is the type of information you are likely to discover when contacting them. You will want to keep this in mind as you write to the appropriate lodge or repository.
While most of the fraternal organizations have a central, national lodge, the Masons seem only to have their state Grand Lodges. Below are some useful links for some of the still active fraternal organizations. Just as the Masons have no national address to write to, it is not surprising that they also don't have a single website. Those included below are being done so, as they include useful information.
KNIGHTS OF COLUMBUS
Knights of Columbus Web Page http://www.kofc-supreme-council.org/index.html
KNIGHTS OF PYTHIAS
The Order of Knights of Pythias http://www.pythias.org/index.html
Allen Wait of Yuba City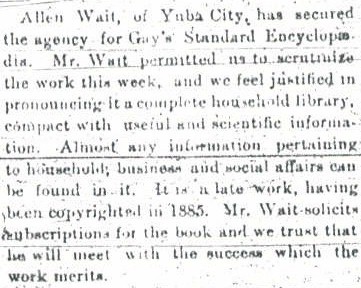 Waite-Burnap Family Photos Found
I've been contacted by a man in Florida who's found an album belonging to Bethiah Waite Burnap. Please let me know if you're a family member and I'll put you in touch with him. He'd like to see the album back in a Waite descendant's hands.
Thomas Waite, The Regicide
Leicestershire lawyer who fought for Parliament as a captain under Lord Grey. Profited from the sale of the Duke of Buckingham's lands under the Commonwealth. Arrested at the Restoration and pleaded that he had been forced by Cromwell and Ireton to sit on the High Court of Justice. Sentenced to life imprisonment on Jersey. (The Regicides: 59 Signatories of the King's Death Warrant)
The Obituary of Mercy (Fisher) Waite
Pat Evans has provided us with the text of the obituary of Mercy (Fisher) Waite. Ms. Sue Wood of Lake Co., OH originally found the article. First printed in the "Painesville Telegraph", July 10, 1879 pg. 3. Death Date July 6, 1879. (The death date on her tombstone is June 29, 1879.)
Death of Mrs. Waite
Mrs. Mercy Waite died at her residence on Waite Hill Sunday last, in her 83rd year, and was interred in the family burying ground on Tuesday. The deceased was one of the earliest settlers of this township, coming here with her late husband between fifty and sixty years ago, when the country was almost a wilderness. She leaves five children - Miss Amanda Waite, Mrs. Ellen Gibbons, Mrs. Orisey (maybe Orlsey) Lilley, Mrs. Margaret Hopkins, and William Waite, of Berlinville in this State - Willoughby Independent.
Miss Anna L. Waite
Dies at Oxford Mills; Funeral Held Friday
Anna Liza Waite, 67, who has been residing this past winter with her brother, William Waite and family, passed away at 4:20 o'clock Tuesday afternoon, Dec. 13, after a brief illness.
Miss Waite had been an invalid for 60 years, due to an unfortunate accident which left her a cripple suffering with spinal trouble. Her friends were numbered by her acquaintances.
Anna Liza Waite was born in Janesville, Wis., Jan. 31, 1865, the year the Civil war closed. Her parents, Mr. and Mrs. Warren Waite, moved to Jackson county, Iowa, when she was four years old. In 1886, the mother died leaving four children motherless. Anna was then mother to the entire family. Twelve years ago the father passed away, and since that time Miss Waite has made her home, during the winter months, with her brother William, and during the summer has resided ona 5-acre farm, being joined there by a sister, Mrs. Maud R. Keahn of Maquoketa.
Surviving are the following brothers and sisters, Mrs. Lillis Moon of Firley, Wash., Mrs. Maud E. Keahn of Maquoketa, Wis., Miss Susie A. Waite of Milwaukee, Wis., and William Waite of Oxford Mills; also five nieces and nephews are left to mourn. Two sisters, Estelle, aged 29, and Jesele, aged 17, preceded her in death.
Miss Waite had been a member of the Latter Day Saints church of Fulton for the past 35 years.
A short service was held at the William Waite home at 1:00 o'clock Friday, the Rev. W. Wolegmuth officiating, and at 1 o'clock at the Latter Day Saints church of Fulton with the Rev. John Heide in charge. Burial was made in the Sutton cemetery.
In the past, Miss Waite had endeared herself to many in the loving neighborly kindnesses and care she gave to one and all in the times of distress and sickness. What [ ] beautiful words and character would one wish than these when we pass one by one to eternal rest?
Waite, Edgar Ravenswood (1866 - 1928)
Zoologist and museum curator
Waite was Zoologist to the Australian Museum, Sydney 1893-1905 and Curator of the Canterbury Museum, Christchurch, New Zealand 1906-14. He was then appointed Director of the South Australian Museum 1914-28. He became a world authority on fishes.
Otis F.R. Waite (1818-1895)
Thanks to Bud Miner for submitting this snippet!
Otis Frederick Reed Waite, the writer of the History of Claremont, New Hampshire, was born in Chester, VT, March 3, 1818. He learned the trade of printer in New York City.
Mr. Waite held various publishing positions, as well legislative positions. He was general recruiting officer for Sullivan County, during the War of the Rebellion. After the close of the war, he prepared, "Claremont War History," New Hampshire and "Vermont in the Great Rebellion."
Mr. Waite served in the Keene Light Infantry, and was promoted to the rank of Major.
Biographies On The Internet
The sites listed below, while not specifically sites dealing with the genealogy of Waite families have some wonderful biographies of individuals whose surname was Waite. Please take a minute to visit some of them. Who knows, the answer to your mystery might be hidden here.
Bud Waite, Profile of a Local Legend - This article, written by Art Kidwell for hi-desert magazine, tells the story of Bud Waite of San Bernardino, California and gives a surprising amount of information on his ancestry as well.
Morrison Remmick Waite, Chief Justice of the U.S. Supreme Court - Good short biography of Morrison Remmick Waite of Lyme, CT and Maumee, OH found at the Toledo Attic site.
Aurilla Mariette Wait (c. 1801 -1880): Her Wait Ancestry - Written by Kem Luther, this biography of his second great grandmother offers some well thought out conjectures on her ancestry.
John Edward Waite and Laura Caroline Akester - Written by Donald E. Waite is a wonderful biography of his ancestors who arrived in Canada 27 Aug 1886. He's included some wonderful stories of their lives and has many great pictures to share.
John Waite of Saskatoon - Mr. and Mrs. John Waite with their family of three children, Leonard, Kathleen and edna, came to Canada from Nottingham, England in the year 1913.
...I look into this mirror and see a thousand mirrors behind me: My mother's face, between bright curtains, watches the damp garden. My father sits under a lamp with his eyes closed."
Elmaz Abi-Nader | New Year's Morning | The Poetry of Arab Women